New book "Martial Arts on the Autism Spectrum" by Al Loren is released, a powerful look at the methods, principles, and astounding results of a unique approach to teaching disabilities students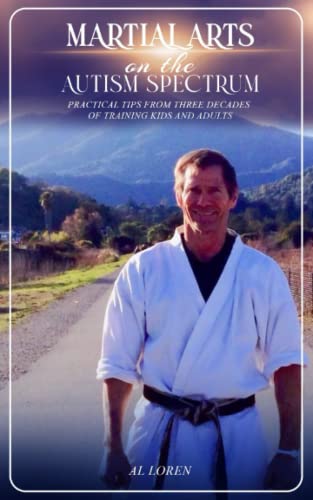 "Martial Arts on the Autism Spectrum: Practical Trip from Three Decades of Training Kids and Adults" by Al Loren has been released worldwide. This 64-page book draws from the real-world experiences and success of the author's 30-year career as a martial arts instructor for adults and children on the autism spectrum and contending with other disabilities. Through a deliberate, time-tested teaching methodology that relies on patience, compassion, and carefully developed learning challenges, Loren's teaching has had lasting positive effects on his students' confidence, sense of accomplishment, and beyond.
A combination of testimonials from students and their families, personal stories, and practical tips for teachers, this book is packed with informative, inspiring ideas. Through the principles of martial arts, as well as physical and coordination challenges that accompany the discipline, Loren's teachings are truly transformative, and apply to all teachers, parents, and family/friends with autistic and disabilities people in their lives.
Loren's book shows the difference that a qualified, empathetic instructor can make, especially in the lives of young people. The benefits of his teachings range from improved physical health to increased social confidence, positive changes in focus and concentration to a more positive outlook on life. Al serves as teacher, sensei, mentor, and so much for his pupils, and this book shares his unique approach to improving the lives in his care. The author's passion for helping those with disabilities, autism, and other intellectual disabilities is palpable in his writing. Readers will feel inspired by his dedication to his students, and motivated to employ these powerful ideas in their own interactions and educational efforts.
Through understanding, patience, compassion, and a commitment to the personal growth of students, amazing, positive changes are possible – and Loren's writing shows the path for achieving these incredible results.
"Al has worked with our daughter for over 20 years. We have always appreciated his professional yet friendly approach. His encouragement has helped her with self confidence and improved her coordination" – Phyllis Evans, Mill Valley, CA
Martial Arts on the Autism Spectrum (ISBN: 9798387818622) can be purchased through retailers worldwide, including Barnes and Noble and Amazon. The paperback retails for $19.99. Wholesale orders are available through Ingram. Review copies and interviews are available upon request. The author can be contacted via email at [email protected] or by phone at (415) 515-9690.
Learn more at www.allorenmartialarts.com
About the book:
In this book, Al details his decades of experience teaching martial arts, including various considerations ranging from curriculum to goals and challenges he overcame. Although Al teaches both neurotypicals and people on the autism spectrum, this book focuses on the latter. As you read the book, be prepared to take a walk with the author on a passionate journey. You may need to grab a tissue when reading some of the chapters while others will cause you to smile. If after reading this book, you decide to invite Al for a speaking engagement, he can be reached through his website http://www.allorenmartialarts.com/#Contact
About the author:
Al Loren is an experienced martial artist with over 40 years of training in Karate, Kung Fu, Aikido, Tai Chi, and Jujitsu. Al has been teaching full-time in the Bay area of Northern California for over 30 years.
He has a large practice that includes neurotypical kids, adults, and seniors as well as individuals with autism and other disabilities. Al Loren is well known for excellence in teaching and for his professional yet compassionate style and methods.
Media Contact
Company Name: MindStir Media LLC
Contact Person: Jen McNabney
Email: Send Email
Phone: 800-767-0531
Address:1 New Hampshire Ave Suite 125
City: Portsmouth
State: NH
Country: United States
Website: https://mindstirmedia.com/