TechSpecs Ray Announces Upcoming Launch of Revolutionary AI-Powered Subtitling and Translation App on Kickstarter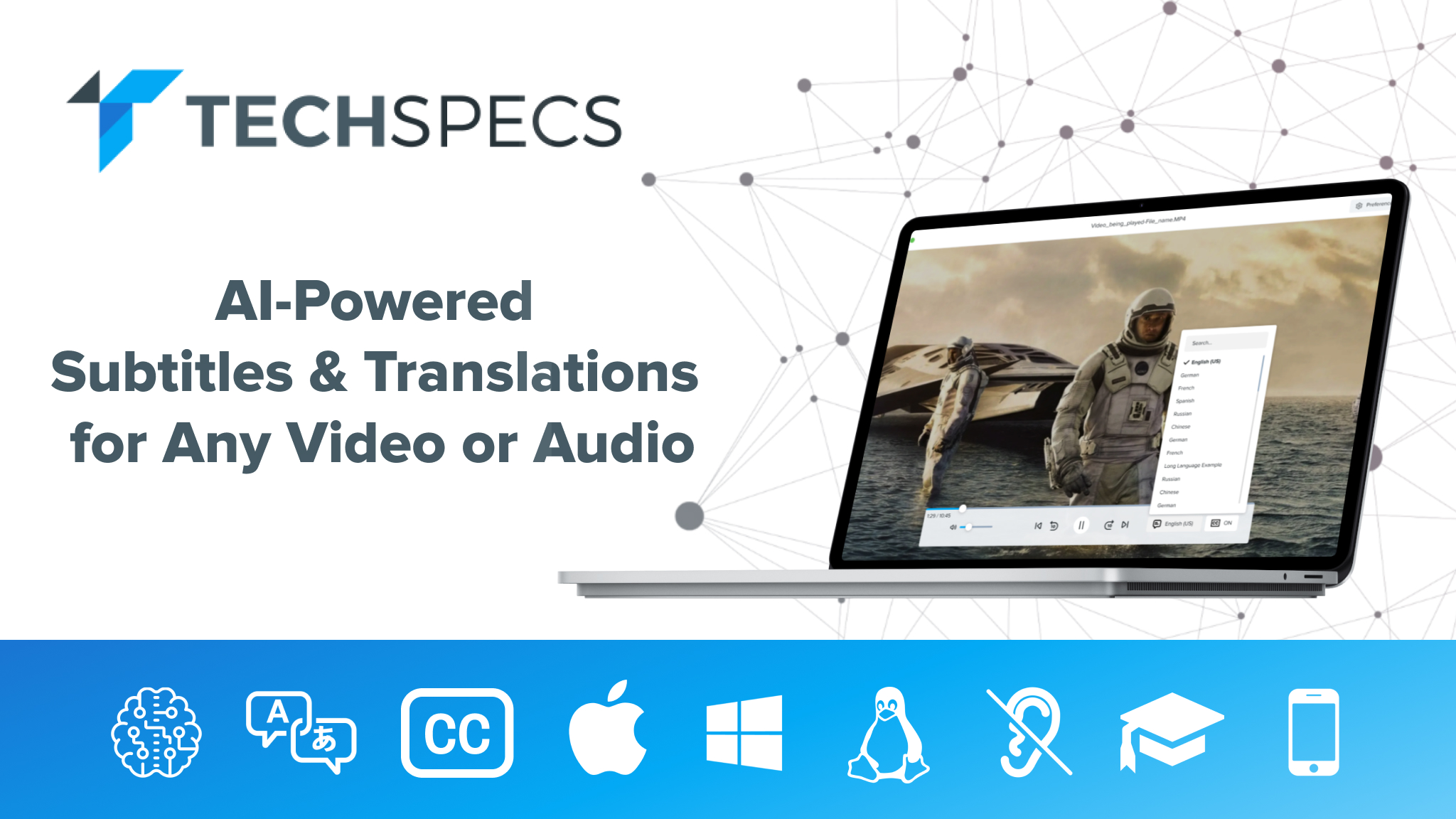 Washington, D.C. – TechSpecs is excited to announce the upcoming launch of TechSpecs Ray, a groundbreaking app that uses artificial intelligence to automatically generate subtitles and translations for local video and audio files, as well as YouTube and Vimeo videos. TechSpecs Ray supports an impressive range of 98 languages for subtitles and offers translations in 31 languages, making it a versatile and powerful tool for global audiences.
TechSpecs Ray is designed to cater to a wide range of devices, including desktop and laptop computers (Windows, Mac, and Linux), mobile devices (iOS and Android), and smart TVs. With its seamless integration into popular video-sharing platforms like YouTube and Vimeo, and its ability to play locally stored media files, TechSpecs Ray provides users with an unparalleled experience in accessing multilingual content with ease.
Ral Oz, the Founder/CEO of TechSpecs, said, "We are thrilled to unveil TechSpecs Ray and bring it to the world through our upcoming Kickstarter campaign. Our goal is to break down language barriers and create a more inclusive and connected global community through the power of AI-generated subtitles and translations across a variety of devices."
To generate excitement for the launch, TechSpecs will be offering an exclusive promotion for early adopters on Kickstarter. Supporters can enjoy discounted subscription prices and unique rewards, available only during the campaign period. The TechSpecs Ray Kickstarter campaign is set to launch soon and will run for 30 days.
About TechSpecs:
TechSpecs is an innovative technology company committed to developing advanced AI-powered solutions that improve the way people interact with digital content. Founded by Ral Oz in 2017, the company aims to create products that enhance accessibility, bridge language gaps, and empower users across the globe. TechSpecs Ray is the latest groundbreaking product in their lineup, designed to revolutionize subtitling and translation in video and audio content on various devices.
For more information about TechSpecs Ray or to be notified when their Kickstarter campaign goes live, please visit www.techspecray.com and follow the company on social media at:
Facebook: www.facebook.com/realtechspecs
Twitter: www.twitter.com/realtechspecs
Instagram: www.instagram.com/realtechspecs
LinkedIn: www.linkedin.com/company/realtechspecs
Media Contact
Company Name: TechSpecs Inc.
Contact Person: Naomi Oz
Email: Send Email
Phone: (206) 809-0543
Country: United States
Website: https://www.techspecsray.com/