Black scholar launches a successful brand focused on inspiring millennials to live a life on purpose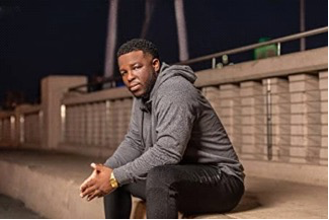 Scholar, professor, and entrepreneur, Dr. Solomon Tention, created a unique brand because of a passion to use his life's story and the stories of others to inspire millennials to live imperfectly on purpose, evolve to their highest selves, contribute to surrounding communities, and to create the life they ultimately desire.
Solomon's book series entitled the King in Me with a focus empowering men of color to discover who they are, and what they love and desire out of life. "The King in Me" is a three-part series of illustrated journals and practical guides designed to help men of color discover their life's purpose through self-exploration, healing, and personal development.
The books within this series combine thought-provoking prompts and creative exercises to help men of color gain meaningful introspection and unlock their potential. The King in Me series is based on his Solomon's experience with discovering his own life's purpose, and his coaching work with men who want to live their life with more purpose and passion. His books can be found in hardback, ebook, and audiobook formats on Amazon.
Launched last summer, the "The Solomon Tention Podcast" explores questions about human experience, leadership, entrepreneurship, and culture. "The Solomon Tention Podcast Unfiltered" was launched this spring and focuses on sharing stories and perspectives of everyday individuals focused on inspiring millennials towards purpose.
Listeners can subscribe to the "The Solomon Tention Podcast" and "Solomon Tention Podcast Unfiltered" via the links below and both can be found on all major podcast streaming and download platforms including YouTube, Amazon, IHeart Radio, Audible, Spotify, Apple Podcasts, Google Podcasts, and many more.
New episodes on both podcasts will drop twice weekly as Solomon and his guests discusses various topics, and takes questions from listeners.
Solomon has dedicated his career to building ecosystems to help men of color, educators, leaders, and scholars thrive and experience holistic success. This podcaster is a jack of all trades with more than a decade of experience in educational instruction and leadership.
Listen to episodes from the "The Solomon Tention Podcast" via ITUNES HERE. Subscribe to "The Solomon Tention Podcast Unfiltered" via YouTube HERE and listen to his new motivational album series, Unfiltered Album Vol 1 via Apple MusicHERE. To learn more about Dr. Tention, stay connected, and learn more about his upcoming projects, please visit his official Linktr.
Media Contact
Company Name: Dr. Solomon Tention
Contact Person: Media Relations
Email: Send Email
Country: United States
Website: https://linktr.ee/drsolomontention