Midnight Kitchen Tools Designs the World's First Ergonomic Food Cutter
The Midnight Slice was created to reduce the wrist strain experienced while slicing foods
SOUTH LYON – May 28, 2021 – Midnight Kitchen Tools has designed the world's first ergonomic pizza cutter. The Midnight Slice launched on Kickstarter on May 11. This pizza cutter is a convenient addition to anyone's kitchen arsenal, can be used to cut a variety of foods, and is made to last a lifetime.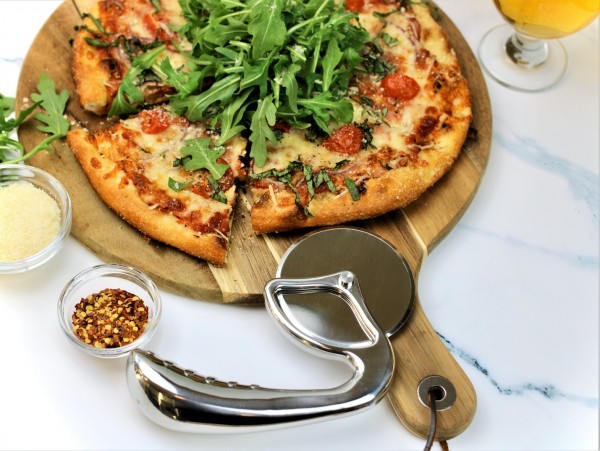 Most pizza cutters on the market are hard to clean and break easily, in addition to producing uneven cuts. The team at Midnight Kitchen Tools believes that the best pizza cutter should not cause wrist strain or culinary distress. For this reason, they decided to design a slicer that can reduce wrist fatigue when slicing both pizza crusts and thicker foods.
"As an engineer, I was determined to design a kitchen product that is ergonomic and awesome," says Midnight Kitchen Tools founder Michael Chou. "Traditional pizza slicers force you to bend your wrist while cutting, which makes cutting very difficult. Our slicer makes it much easier to slice through your food, while protecting your wrist from unnecessary strain."
The ergonomic curved handle is where the magic of the Midnight Slice lies. With this curved handle, the user exerts force from their chest and arm muscles, allowing them to keep their wrist straight and avoid discomfort or injury. Thanks to the extra leverage and weight balance, notonly does the Midnight Slice work well forpizzas, it also works well cutting vegetables, meats, and herbs.
Besides offering comfort, the Midnight Slice is 100% stainless steel, making it easy to clean. Most food slicers are overly complicated, containing plastic bits and crevices which are difficult to wash. This food cutter is composed of only three parts, and can be cleaned easily in the dishwasher.
The Midnight Slice was created to help make culinary adventures safer and easier. With its unique design, users can cut all kinds of food like flatbread, vegetables, herbs, quesadillas, sandwiches with no strain at all.
About Midnight Kitchen Tools
Midnight Kitchen Tools strives to design heirloom quality ergonomic kitchen products that will last forever. Their most recent kitchen gadget, the Midnight Slice, is the world's first ergonomic food cutter. This food cutter cuts easily through different types of food while protecting the user's wrist.
Web: https://midnightkitchentools.com/
Instagram: https://www.instagram.com/midnightkitchentools/?hl=en
Facebook: https://www.facebook.com/midnightkitchentools
Twitter: https://twitter.com/Midnight_Tools
Media Contact
Company Name: Midnight Kitchen Tools
Contact Person: Jennifer Recchione
Email: Send Email
Country: United States
Website: https://midnightkitchentools.com/