Author Isaac Joseph Announces "My Brain Is Strong Too" Book for Kids Struggling With Mental Health Issues
Isaac Joseph has written and published a book with a compelling story and insightful ideas to help kids dealing with mental health conditions, access useful resources, learn about their condition, and build self-confidence in their journey to happiness
Author and mental health advocate Isaac Joseph announce his book titled "My Brain is Strong Too." The book is for kids a few months old to 12 years and their parent, educating them about mental health issues and ways to cope.
The book tells the story of Tommy, who is struggling with depressive disorders and his therapist, Ms. Cynthia, helping him cope through positive affirmations and other methods.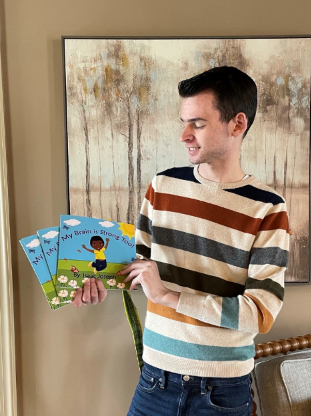 Kids and parents will find the book very useful because it provides education on mental health issues and how to get help. It's also presented in a fun and exciting way, making it a great companion for learning to read and at the same time enjoyable.
"I have always been a mental health advocate and I wrote this book during quarantine to give children a voice. These issues are rarely talked about to children," said Isaac Joseph, author of My Brain is Strong Too. "My goal is to de-stigmatize mental health treatment and provide useful resources for audiences of all ages."
Isaac Joseph is a young man who struggled with major depressive disorder and bipolar II most of his life. While growing up, he found it hard to locate any materials written to help people in his condition learn. He had to create the materials from scratch, teaching himself how to read, write, and learning new skills.
In the US alone, 1 in 6 children aged 2–8 years have diagnosed with mental and behavioural disorders that affect their personality, communication with others socializing, and learning. The sad thing is, even more kids have this challenge, but it's often not diagnosed. Isaac took it upon himself to write and publish "My Brain is Strong Too" so that kids in his position can find and learn from resources and materials they can relate with.
The book used the storytelling strategy because children and everyone else love stories. Kids reading the book can quickly put themselves in Tommy's shoes while their parents read along to explain further some of the information and concepts expressed in the book. The book offers an excellent opportunity for parents to bond with their kids and play a vital role in helping them through the journey of treatment, discovery, and healing.
"My Brain is Strong Too" is a 24-page book written in simple English with excellent illustrations. It's available in paperback, hardcover, and kindle, so there are multiple ways to acquire and enjoy it. The book's story teaches powerful lessons that help kids build self-confidence, understand that they're not alone, and assure them that everything will be okay.
To purchase the book, please visit Amazon and Barnes & Nobles.
For more information, please visit https://www.mybrainisstrongtoo.com/.
About Isaac Joseph
Isaac Joseph is an author and mental health advocate based in the USA. He's the owner of Isaac Joseph Publications, a company dedicated to publishing life-changing books for young people and adults. The author wants to use the power of storytelling to inspire kids facing challenges that they're not alone.
Media Contact
Company Name: My Brain is Strong Too! (Isaac Joseph Publications)
Contact Person: Isaac Joseph
Email: Send Email
Phone: 646-941-0729
Country: United States
Website: https://www.mybrainisstrongtoo.com/