Moana Chips is utilizing Mr. Checkout's Fast Track Program to reach Independent Grocery Stores Nationwide.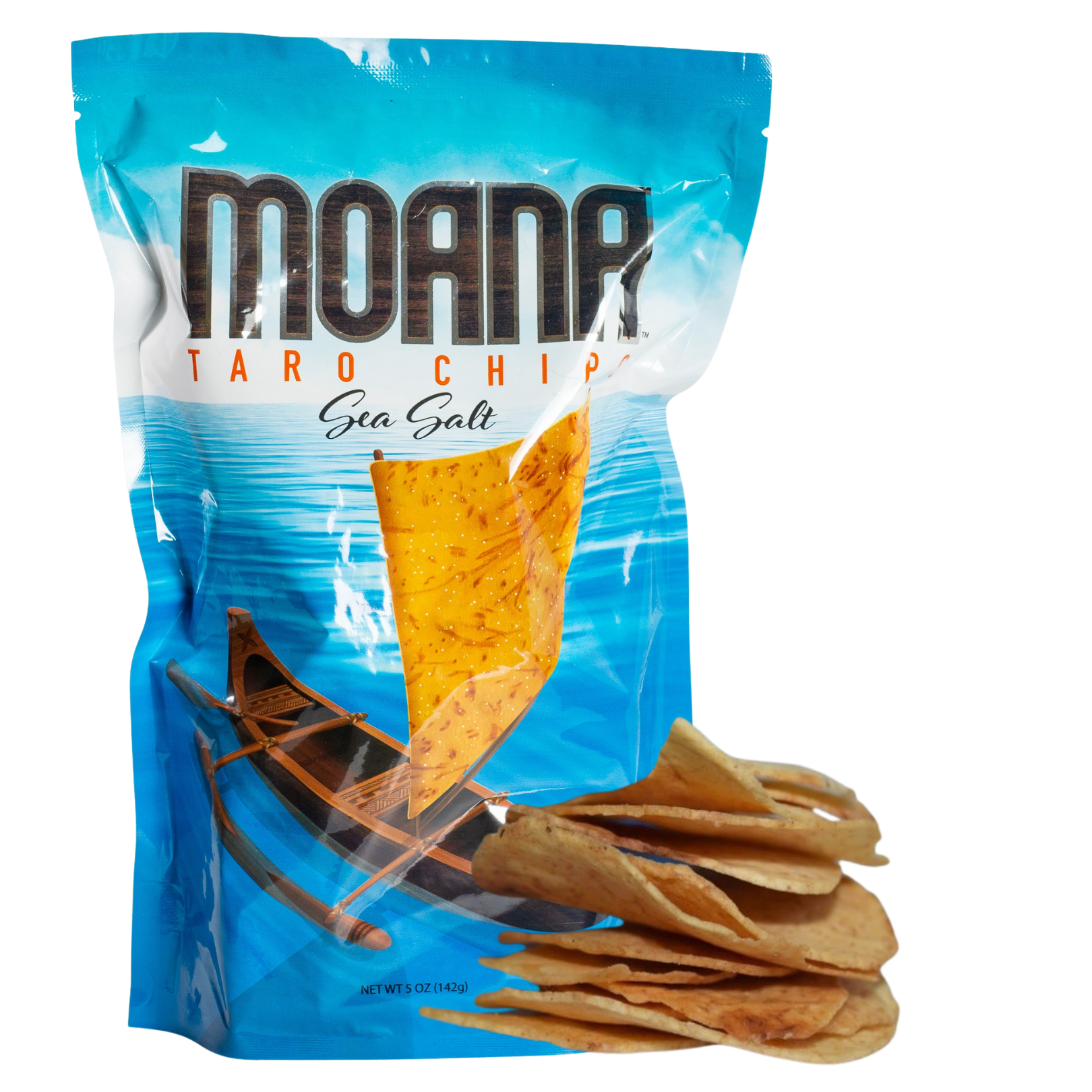 Moana Taro Chips are the perfect complement to Hawaiian poke fish, salsa, guacamole or for snacking straight out of the bag.
Moana Taro Chips are the delicious, wholesome snack you have been craving. Made with real taro grown on small farms in the Pacific Islands of Samoa, these natural chips will elevate your snacking experience. With 0 grams of trans fat and no artificial flavors or artificial preservatives, the ingredients consist of only taro, canola oil and sea salt. Transport yourself to a tropical island, as you enjoy the sweet and savory taste of taro in every bite!
From the native language of Samoa, we take the name MOANA, which means "ocean". Taro is a root vegetable that has been cultivated for thousands of years in the Pacific Islands of Samoa and was carried across the sea by Polynesian wayfarers. Moana Chips offers an elevated taste of this same taro root, harvested using the same traditional techniques as ancient Polynesians. We transform simple ingredients – taro, canola oil and sea salt – into delicious taro chips without the need for artificial flavors or artificial preservatives. For a satisfying, sweet and savory crunch on every bite, indulge on these gourmet chips with a bowl of fresh Hawaiian poke fish or with your favorite dip for a new taste experience.
Moana Taro Chips are made in small batches to give them their distinctive taste and unique flavor. We crisp them to a perfect crunch using only non-GMO canola oil and gently season with sea salt. Our chips are an excellent source of potassium, magnesium and vitamins C, E, K and B6. With 90 calories, 4g of Fiber and 1g of Protein, 0g trans fat and 0mg cholesterol per 1 ounce serving, Moana Taro Chips are the new go-to snack for those who crave great taste and premium quality for a healthy lifestyle. Our 5-ounce bag is a perfect size for on-the-go snacking, lunches, or care packages. Enjoy it straight from the bag, add it to your trail mix, top it with tuna tartare or ceviche, or serve with mango salsa as an appetizer for your family and friends.
At Moana Chips, we handpick and hand peel the freshest taro grown locally on small farms in the Pacific Islands of Samoa. As a growing family business, we help build our local economy by providing jobs and helping communities. We employ only local subsistence farmers and we sell both locally in American Samoa as well as internationally through overseas exports. The exporting facet of our business has been particularly praised by the American Samoa Department of Commerce as setting an example for other local companies on our remote island. Buying our taro chips means you are helping local farmers and their families.
Media Contact
Company Name: Moana Chips
Contact Person: Patricia Vaivao
Email: Send Email
Phone: 650-797-5974
Country: United States
Website: https://naturalgrocers.org/featured-item/moana-taro-chips/