Xreart Studio Announce The Launch Of Their Teardown Framed Artworks
Innovative photography studio, Xreart, launches a wide range of teardown framed artworks made from disassembled electronic products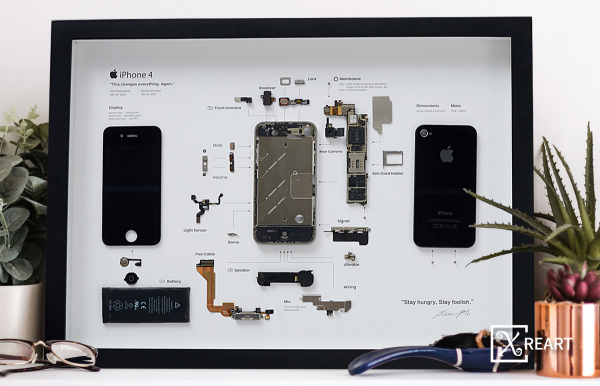 The team at Xreart Studio has reiterated their commitment to helping consumers preserve their favorite tech products by creating "out-of-this-world" artworks from disassembled electronic products as the company recently announced the launch of their new unique pieces. The studio has launched their first batch of products, made through a process that includes disassembling, cleaning, sterilization, redesigning, and framing used phones collected from authorized phone suppliers.
The tech world has continued to evolve over the years, with brands and manufacturers emerging to meet the diverse needs of consumers. In a related development, the launch of new items into the market has led to the e-waste phenomenon, with a recent report showing that the global electronic waste generation reached a record high of 53.6 million metric tons in 2019. On the flip side, consumers of electronic products sometimes find it difficult to let go of their favorite items. However, Xreart Studio is looking to offer the best of both worlds to consumers by creating artworks from disassembled electronic products.
Each frame from Xreart is handmade, offering an ultimate collection for every tech fan and the perfect gift for lovers of tech products, helping them to explore and discover the core of each of classic tech devices. In addition to the range of teardown framed artworks offered, Xreart also sells frames and DIY kits for iPhone, iWatch, PSP, Blackberry, Gameboy, LEGO, and a host of others, with free download parts sketch.
Xreart brings a twist to gifting, offering unique decorations, collections, and tech products, with the newly released items, including iphone3GS, iphone4, iphone5, iphone5s, iphone6. The company has also announced plans to release iPhone 1, iPhone 3G, Nokia, Gameboy, PSP, iWatch, and other series of products.
In line with the goal of making a positive impact on environmental and animal conservation causes, Xreart will also be donating 0.5% of every purchase to NGOs like Nature Conservancy, Ocean Conservancy, World Wildlife Fund, and Greenpeace Foundation at no extra cost to customers.
For more information about Xreart and the plethora of products offered, visit – www.xreart.com. Xreart Studio can also be found across social media, including Facebook and Instagram.
Users can also download the templates here – https://xreart.com/pages/free-download-iphone-teardown-template
Media Contact
Company Name: Xreart
Contact Person: Ray
Email: Send Email
Country: United States
Website: http://www.xreart.com/