Coton de Tulear Day: Coton de Tulear Day is on November 26
Beverly Hills – August 26, 2021 – The Coton de Tulear Day is only 3 months away. On November 26, the global Coton de Tulear pawmily is invited to convene, to celebrate all the loving and loved Coton de Tulear dogs that are bringing joy, fun, playful energy to planet Earth.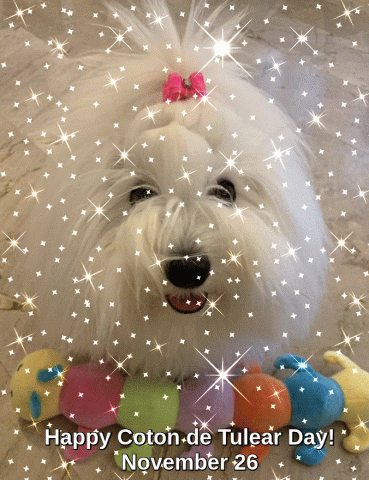 The Coton de Tulear Day is an opportunity to share the cutest pictures, videos, memories of these amazing dogs. To remember all the Coton that are no longer here physically, but always in the hearts of their beloved ones. To share tips and information with people who are serious about becoming the forever family to a Coton de Tulear. https://www.cotondetulearday.com offers links and ideas to participate to the Coton de Tulear Day.
The Coton de Tulear are a very smart and happy companion dog, famous for their white coat that is as soft as cotton. Cotons are very friendly with their inner circle, and sometimes a bit shy when they meet new people and animals. Cotons are relatively small, considering their amazing hair account for a big portion of their size. They usually are between 9 and 11 inches high, and weight between 8 to 13 pounds. They are also known as the "Royal Dog of Madagascar", where they are said to have landed (aboard a pirate ship) from Tenerife, conquering the hearts of the royal family that made them exclusively available to family members. No one else on the island was allowed to live with a Coton de Tulear. Cotons do well in agility and obedience activities, and are excellent therapy dogs. Considering their desire to please, and in many cases their high responsiveness to food (but this may vary), they are great dogs to train.
For the organizers, this is a day to celebrate Shanti, and all the happiness she brought. A loving, intelligent, beautiful puppy who left prematurely, right after her third birthday. "If you are considering to adopt a Coton de Tulear as part of your family, the Coton de Tulear Day is an opportunity to connect with people who are familiar with these adorable dogs, and can share both the amazing happiness and the important responsibilities they bring into your life, if you want to adopt them and be their forever family" says Frank, one of the Coton de Tulear Day organizers. "Cotons require moderate physical activity. They give endless love, require to be loved back (it will be easy, when they look at you with their puppy eyes), and need to be brushed well and regularly, unless you want to give them a puppy hair cut. One thing is sure about the Coton de Tulear dogs: they will conquer your love, with their gentle playfulness and big hearts".
Media Contact
Company Name: Coton de Tulear Day
Contact Person: Frank
Email: Send Email
Country: United States
Website: https://www.cotondetulearday.com/