Real Estate Lead Generator Sam Founda Has Generated Over 200 Million AED in Real Estate Sales in the Last Six Months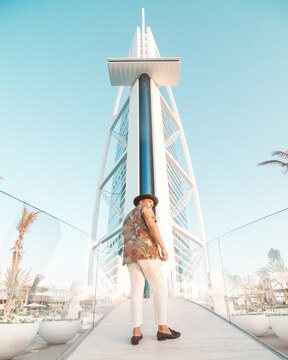 SMV Style and Social Connection owner Sam Founda has generated over 200 million AED in real estate sales in the last six months.
Sam Founda helps businesses thrive. The real estate lead generation expert has generated over 200 million AED in sales revenue in the last six months working with real estate developers, and lifestyle brands in Dubai.
Founda began his career as an SEO/affiliate marketer. He learned from books on advertising and marketing and gained robust digital marketing expertise with SEO, social media, e-commerce, conversion optimization, and video marketing. The owner of Social Connection, a leading Australian social media agency, helped brands in Australia and the United States scale their business with innovative digital strategies.
Now, he has turned his 12 years of digital marketing experience towards Dubai, and his agency, SMV Style, has rocketed to the top. The top real estate lead generation company works with luxury hotels, real estate agencies, and eCommerce brands looking to gain market share, increase revenue, and expand their customer base.
Founda has been recognized by Smart Company Australia and has appeared in Forbes five times. He has worked on more than 650 brands internationally. In addition to marketing, Founda is also a luxury lifestyle influencer, using his more than 250,000 followers on Instagram, plus sponsored ads, to drive more qualified leads.
Founda is the author of two books available on Amazon, 10x Your Brand Using Instagram and ​Social Media Uncovered 2020.
Founda said, "Based on my previous experience combining influencer marketing and digital advertising together in a campaign can drive a much higher conversion rate since people are aware of the influencer and have that trust element. Utilizing this model in the real estate space in Dubai has been a gamechanger in terms of closed transactions. "
​For more information, visit smvstyle.com and follow Sam Founda on Instagram.
Sam Founda
Sam Founda is a five-time Forbes-featured digital marketing expert with more than a decade in the field. He has successfully worked on more than 650 projects with big names such as New Balance, Airbnb, JW Marriot, Intercontinental Hotel Group, Burj Al Arab, and Atlantis. He is also a luxury lifestyle and travel influencer and the owner of Social Connection, a leading Australian social media agency.
Media Contact
Company Name: SMV Style
Contact Person: Sam Founda
Email: Send Email
Phone: 971561578829
Country: United Arab Emirates
Website: www.smvstyle.com