A Story of a Mother's Love by Barbara M. Schuck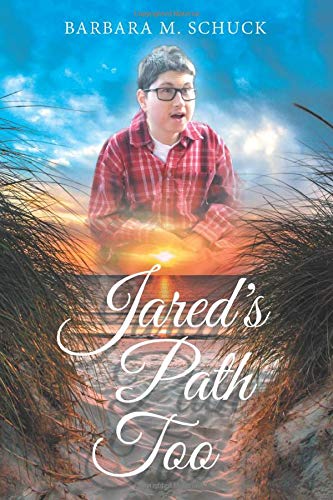 Barbara M. Schuck writes a follow-up book that will amaze and capture readers, the way that it did with her first book Jared's Path.
Jared's Path Too vividly portrays a highly spirited mother unbowed by the limitations of life, this somehow becomes a survival book on how to go through life's pain and trials.
She writes, "My husband and I have journeyed down Jared's path, too, and saw more miracles happening to us and Jared. This path follows Jared from eighteen years old to twenty-one years old—a milestone made beyond doctors' expectations and a life lived against all odds. Jared and I taught a lot of people along his path. People are not all the same and situations are not all the same. Everyone is an individual and has their unique path. Medical treatments need to be made for the best quality of life for each person. Having special needs shouldn't determine the kind of care you receive. We are not a one-size-fits-all person. What works for some people may not work for others, especially if you have complicated medical issues. Jared's many medical issues made some doctors not wanting to care for him."
In this book, she hopes to help her readers understand that a mother's love is never worn away. Her story offers a realistic approach, practical advice, and resources on how to survive a journey when no one believes that his son Jared will be well.
Jared's Path Too is a powerful motivator to entice mothers to never give up as well as to have a consistent attitude towards acceptance.
Schuck writes that Jared is a precious little child who has taught her more about life and love and compassion and humor and strength than all of her life experiences combined. It seemingly depicts that she doesn't care if people think she is trying to paint too saccharine a picture — this life is wonderful, even with the hard parts. She continues that every child is a human being and a gift to be shared with the world.
To know more about Barbara M. Schuck's work, visit: https://www.barbaramschuck.com/
Available in all major online retail stores.
Own yours now!
Amazon: https://amzn.to/3hZNHzN
About the Author
I have been married to my wonderful husband for 32 years. We live out in the country and enjoy our nice neighborhood. I have three cats and they are very enjoyable. I like to paint ceramics and go on walks when I am not working. I participate in a 4-H club called Best Friends 4-H Club. This club works with children with special needs to handle canines and learn about canines and then can participate in the Berrien County Youth Fair. All the canines are therapy dogs or qualify to be a therapy dog. I am also club secretary. Jared and I have participated in this club for many years. I also volunteer for a local senior center for which I transport people to appointments and shopping errands. I also help them with the monthly commodities when my job allows me. I have a part-time job working at a casino but I am always advocating for my son. I am just a mom doing the best I can for my son, to carry our love to eternity.
Media Contact
Company Name: URLink Marketing | URLink Print and Media
Contact Person: Media Relations
Email: Send Email
Phone: 1-888-980-6523
Address:1603 Capitol Ave., Suite 310
City: Cheyenne
State: Wyoming 82001
Country: United States
Website: www.urlinkpublishing.com/