Gameboys, Hello Stranger, Ben x Jim Bags Top Honors, 2020 TAG Awards Chicago
December 30, 2020 – Chicago – The recently concluded "Revelation of Winners" of the 2020 TAG Awards offered a wonderful treat for BL Series lovers this holiday season. It aired last December 25 on The Asian Gigster's YouTube channel and was virtually hosted by the lovely Kayla, the star of the highly acclaimed YouTube video, "Ikalabing-Walo: Kayla Turns 18."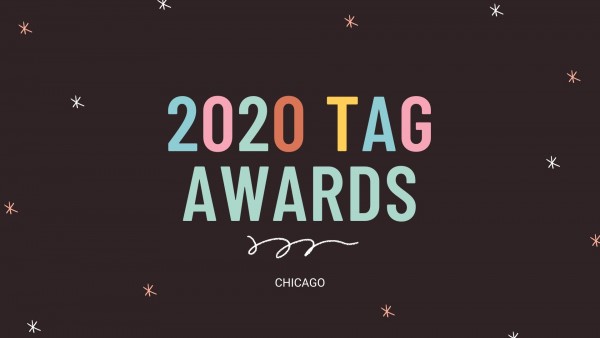 "TAG AWARDS launched in 2020 amid the pandemic, with an advocacy to spread positivity & goodwill. Our YouTube channel, The Asian Gigster, will highlight the achievement of remarkable individuals, excelling in the field of social media, entertainment, and entrepreneurship. As a way of giving back to the Filipino community, we chose to launch TAG Awards in the Philippine market this year, while 2021 will mark the pivot towards tapping the global scene," says Sir John, the Founder of TAG Awards, and is a Filipino American entrepreneur based in Chicago, Illinois, USA.
"Gameboys," considered as the pioneer of Pinoy BL Series, brought home the much coveted BEST BL SERIES award, with its lead stars Kokoy de Santos and Elijah Canlas snatching the BEST KISS title. This is also the first Filipino Boys Love web series, making a historical premiere on Netflix today.
"Hello Stranger," featured an innocently sweet yet authentic depiction of two, young men falling in love in unexpected ways, bagging the award for BEST LOVE TEAM for the dashing heartthrobs, Tony Labrusca and JC Alcantara.
A tie for the BEST ACTOR category was claimed by the moving performance of the lead stars of "Ben x Jim," Teejay Marquez and Jerome Ponce, while Kat Galang's unforgettable role paved way for her first Best Supporting Actress trophy.
The effortless, genuine portrayal of Renshi De Guzman's character, helped him grasp the Best Supporting Actor title for "In Between" by Uncle Scott Global Productions.
Fans are now awaiting the awardees' plaque unboxing videos on their personal vlogs, along with a featured interview to be uploaded on The Asian Gigster's YouTube channel.
You may watch the "Revelation of Winners" uploaded here: https://youtu.be/xUY9sgM0uGU

Video Link: https://www.youtube.com/embed/xUY9sgM0uGU
Full list of the 2020 TAG Awards Official Finalists are listed below:
• BEST BL SERIES (Philippines)
BEN X JIM (REGAL ENTERTAINMENT, INC.)
GAYA SA PELIKULA (GLOBE STUDIOS)
QUARANTHINGS: THE SERIES (RIDE OR DIE)
HELLO STRANGER (BLACK SHEEP)
WINNER: GAMEBOYS (THE IDEA-FIRST COMPANY)
• BEST BL LOVE TEAM (Philippines)
WINNER: TONY LABRUSCA & JC ALCANTARA (HELLO STRANGER)
TEEJAY MARQUEZ & JEROME PONCE (BEN X JIM)
KOKOY DE SANTOS & ELIJAH CANLAS (GAMEBOYS)
ROYCE CABRERA & KYO QUIJANO (QUARANTHINGS: THE SERIES)
IAN PANGILINAN & PAOLO PANGILINAN (GAYA SA PELIKULA)
• BEST ACTOR (BL Series, Philippines)
JC ALCANTARA (HELLO STRANGER)
WINNER: TEEJAY MARQUEZ (BEN X JIM)
WINNER: JEROME PONCE (BEN X JIM)
KOKOY DE SANTOS (GAMEBOYS)
ELIJAH CANLAS (GAMEBOYS)
• BEST SUPPORTING ACTRESS (BL Series, Philippines)
ADRIENNE VERGARA (GAYA SA PELIKULA)
WINNER: KAT GALANG (BEN X JIM)
VIVOREE ESCLITO (HELLO STRANGER)
ADRIANNA SO (GAMEBOYS)
YAYO AGUILA (MY EXTRAORDINARY)
• BEST SUPPORTING ACTOR (BL Series, Philippines)
PATRICK QUIROZ (HELLO STRANGER)
MIGUEL ALMENDRAS (HELLO STRANGER)
WINNER: RENSHI DE GUZMAN (IN BETWEEN)
KYLE VELINO (GAMEBOYS)
GIO EMPRESE (MY DAY, THE SERIES)
• BEST KISS
WINNER: KOKOY DE SANTOS & ELIJAH CANLAS (GAMEBOYS)
ROYCE CABRERA & KYO QUIJANO (QUARANTHINGS: THE SERIES)
IAN PANGILINAN & PAOLO PANGILINAN (GAYA SA PELIKULA)
MIKO GALLARDO & INAKI TORRES (MY DAY, THE SERIES)
MIGS VILLASIS & GENESIS REDIDO (IN BETWEEN)
• SONG OF THE YEAR
BAWAL LUMABAS (Kim Chiu)
HIGA (Arthur Nery)
WINNER: PAUBAYA (Moira Dela Torre)
MARIKIT (Juan & Kyle)
CATRIONA (Matthaios)
• BEST SHORT FILM
TOKWIFI
ANG PAGPAKALMA SA UNOS
BAHAGHARI
LIVING THINGS
WINNER: POBYA
• BAND OF THE YEAR
WINNER: THE JUANS
MAGNUS HAVEN
DECEMBER AVENUE
SB19
BEN & BEN
* SPECIAL AWARDS
Phenomenal Beauty Queen: Rabiya Mateo, Miss Universe Philippines 2020
Bigo Live Influencer: Johannes Rissler (SuperJohannes)
TikTok Influencer: Eyno Bautista (eynothefilipino)
Fast Rising Influencer of the New Decade: Von Ordona, YouTube
For more information, SUBSCRIBE: http://www.youtube.com/TheAsianGigster
FOLLOW on Instagram: http://www.instagram.com/TheAsianGigsterIG
FOLLOW on Facebook: http://www.facebook.com/TheAsianGigster
Media Contact
Company Name: The Asian Gigster
Contact Person: Sir John
Email: Send Email
Phone: +1773-681-4662
City: Chicago
State: IL
Country: United States
Website: http://www.youtube.com/TheAsianGigster