Peach Leaf Ltd Gets the Post-COVID-19 Era On Course with their 2-In-1 Portable Weighted Blanket
Leading providers of home furniture and decorative items, Peach Leaf Ltd, introduces the 2-In-1 Weighted Blanket to deliver sound sleep to people as they resume globetrotting
Peach Leaf Ltd has reiterated their goal of providing premium quality and innovative home furniture and decorative items to millions of people across the globe with the introduction of the 2-In-1Portable Weighted Blanket. The blanket is made with the best possible materials such as 100% Micro Fibre to deliver the benefits of a weighted blanket and pillow to users. The benefits include providing great sleep therapy for people who suffer from anxiety, autism, ADHD, insomnia, and stress.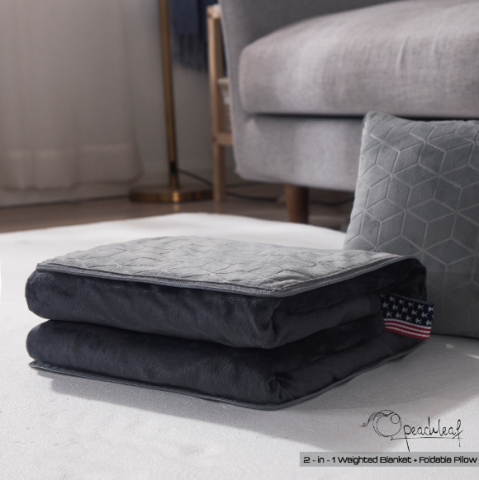 Weighted blankets have been around for years and are becoming increasingly popular by the day, thanks to the therapeutic benefits attributed to using such blankets. Over the years, several brands have emerged with different products to meet the diverse needs of customers to ensure that people enjoy the immense benefits of using weighted blankets. However, Peach Leaf Ltd seems to have found a way of challenging the status quo by blending comfort, convenience, and portability with the dual-use weighted blanket and pillow.
The 2-In-1 Portable Weighted Blanket and Pillow from Peach Leaf Ltd is particularly ideal in the current times, as things are picking up after a seemingly long while of inactivity due to the COVID-19 pandemic. Consequently, Peach Leaf Ltd is providing globetrotters with a solution to help improve their sleep quality without the inconvenience that comes with packing and unpacking. Weighing just 6lbs, the amazing portability of the weighted blanket and pillow, which can be folded and stuffed with zipper closure into a pillow allows for 365 days of comfort and versatility is a standout feature.
Made with 100% Micro Fibre Filled with Premium Glass Beads in an Embossed Harlequin Pattern, the product offers a better touch experience, elegance, and a geometric visual effect to the home.
For more information about the Peach Leaf 2-in-1 Weighted Blanket and Pillow as well as other innovative products from the brand, please visit – https://peachleaf.us/.
About Peach Leaf Ltd
Peach Leaf Ltd was founded by Scott Huong, a passionate and creative entrepreneur to create home-related products to millions of people in the United States and beyond. The goal of the brand is to transform the concept of beauty and utility into pieces of furniture and decoration at the height of the most exquisite tastes and within reach of every pocket.
Media Contact
Company Name: Chris & Ting Consultant Inc
Contact Person: Christine Yu
Email: Send Email
Phone: (855) 939-0966
Address:4200 Chino Hills Parkway, Ste 135-145
City: Chino HIlls
State: CA 91709
Country: United States
Website: https://peachleaf.us/