Gaimin.io second IEO on Nazadax's exchange exceeds expectation selling all 4,000,000 tokens within 10 mins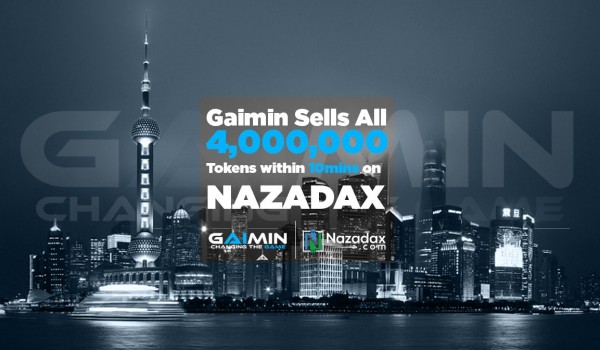 Nazadax completed the first IEO on their platform with Gaimin.io on 18 November 2019. This is part of Nazadax's strategy to reach out to potential projects globally and is Gaimin.io's second successful IEO.
The IEO started at 12.00pm sharp, Beijing Time and the whole process was completed in 10 minutes. The process ran incredibly smoothly, in part thanks to the numerous pre-launch activities carried out by Nazadax. There was an AMA session where Gaimin.io presented for the very first time how their gaming platform interface will look. This was followed by airdrop sessions that strategically targeted specific audiences, additionally and towards the end of the campaign there was a lucky draw held online where a handful of winners went away with 300 EOS. This of course added to the excitement and drew many new users to the exchange.
In recent months the returns on IEOs have been getting lower and many offerings didn't complete. Nazadax's decision to get into the IEO marketplace, even though much later than many other exchanges, was done so with a very careful, well thought out strategy. Nazadax made it a point to ensure that they picked the most interesting and credible project currently out there to kick start their innovative IEO platform. This is a strategy and format that they will continue to do so, in order to maintain interest and to continue to offer the best projects, to their clients, projects that have every possibility of succeeding aiming to provide higher than average returns.
A spokesperson from Nazadax highlighted: "We worked extremely hard and are glad that we have chosen the right partner to work with for our first attempt. The process of on-boarding users was not easy for us. We would like to thank Blockcast.cc for all the promotional work and for getting us into the various mainstream media and also for connecting us to some of the key blockchain communities in the region. Both Nazadax and Gaimin.io worked together with the plans laid out by Blockcast.cc and the experience has been very good. We are looking forward to listing the GMRX token in the near future. A big thank you to Martin and all his Gaimin.io team."
"I cannot be more happy to announce that our second IEO on Nazadax was completed in style and actually exceeded our expectations. I basically did not sleep for the whole night just to be in time to witness this event. We take cautious steps each time building our communities and value of the company. We are continually trying not to give ourselves a huge amount of stress by working to some ridiculous IEO hard cap. I know what my team is capable of and our supporters see us as a company with a solid future, I do not want to over-promise, I want to deliver steadily and work our way up. I was asked if we will do a third IEO in the near future by one of our community leaders in Asia. My answer to her was simple – It depends on demand. Let's work hard to have more people believe in us and we will grow together!" Martin Speight, CEO of Gaimin.io, shared after the IEO.
Congratulatory notes were posted on social media by both companies. Gaimin.io reached their hard cap for their second successive IEO. All 4,000,000 GMRX tokens were sold during this process at $0.04 USTD each. Users who managed to get their GMRX tokens during the IEO at Nazadax will be notified by message and all the tokens will be distributed to the users within 7 working days.
Nazadax will continue their IEOs and there will be more project listings in the pipeline. While Gaimin.io will continue to onboard users for their Beta testing and also work on a few partnership MOUs to strengthen their position in the gaming arena.
For more updates on Nazadax Exchange, go to www.nazadax.com and for Gaimin.io at www.gaimin.io
About Nazadax.com
Nazadax uses revolutionary blockchain technology to provide global traders with advanced financial services. Based in China, the crypto exchange has expanded its reach to multiple countries across the globe, by offering benchmark services and smooth trading experiences.
About Gaimin.io
Gaimin.io's platform is a based on AI-driven software that aggregates a gamer's processing power, when not being used and, therefore, without affecting their gaming performance, to the Gaimin.io monetization network.
Media Contact
Company Name: Blockcast.cc
Contact Person: Jenny Zheng
Email: Send Email
Phone: +65 98832707
Country: Singapore
Website: https://www.blockcast.cc