Award-winning Film Frat House: A College Party Movie is an Official Selection for THE REEL INDEPENDENT FILM EXTRAVAGANZA 2019

Even with their recent streaming deal with Amazon Prime in place FRAT HOUSE is still being screened on the BIG SCREEN! Super Excited to be an Official Selection in the REEL INDEPENDENT FILM EXTRAVAGANZA November 15th in Washington D.C.
Director/Producer Rodney Cox and Writer/Producer Darryl Partyallwknd are both African American military veterans. They took Partyallwknd's mixtape and turned it into a feature length film. With the help of an extremely talented cast and crew they employed over one hundred actors and actresses with zero budget. Since they couldn't afford to pay everyone they made sure that everyone was feed a halfway decent meal while on set.
The film is a comedy about two friends who are on their way to an epic 90's theme college party at the legendary frat house and the colorful characters they run into along the way. This film is sure to have you laughing and get you dancing at the same time! Set in what PartyAllWknd calls his "PartyWRLD", this is the first story of many to come.
On November 15th, the 10th Annual Reel Independent Film Extravaganza will feature 11 films* on Two Screens at the Hill Center DC from 6pm to 11pm. One admission covers both screens.
Screening Date: November 15 2019
Screening Time: 6pm EST
Screening Location: Sousa Hall Screen 2, Washington DC
Tickets available at: https://www.reelindependentfilm.com/program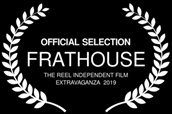 This event is open to the public but limited space is available: https://www.facebook.com/FratHouseTheMovie/
Media Contact
Contact Person: Mrs. Valencia Cox
Email: Send Email
Phone: (888) 701 1016/ 502-528-1362
Country: United States
Website: www.acollegepartymovie.com