At 16% CAGR, Agricultural Robots Market Size is Expected to Exhibit 10.1 Billion USD by 2024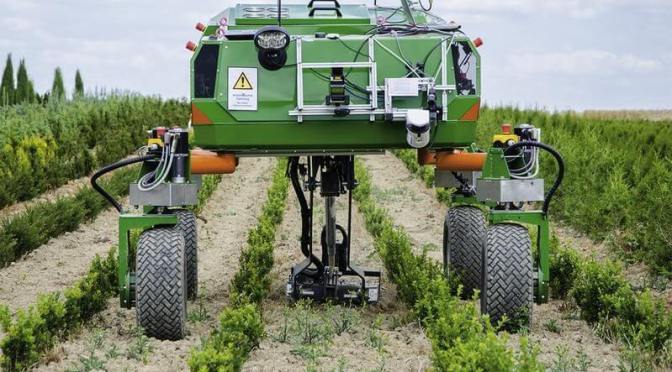 Global Agricultural Robots Market to Reach US$ 10.1 Billion by 2024, Spurred by Development of Collaborative Robots – IMARCGroup
The global agricultural robots market has witnessed robust growth over the past few years. This can be attributed to ongoing research and development to introduce agricultural robots with enhanced capabilities.
According to the latest report by IMARC Group, the market reached a value of US$ 4.1 Billion 2018. Looking forward, the market is expected to reach a value of US$ 10.1 Billion by 2024, exhibiting a CAGR of around 16% during 2019-2024.
Agricultural robots are one of the latest innovations in the agriculture industry. Agricultural robotics or agribots refers to the introduction of automation technologies into biosystems such as agriculture, forestry, and fisheries. These robots automate slow, dull and repetitive tasks which enable the farmers to focus more on improving the overall production yields. From robotic arms to drones and autonomous tractors, the technology is being employed in various innovative applications. Some of the robots in the agriculture industry are used for controlling weed, mowing, pruning, seeding, spraying and thinning autonomously, harvesting and picking, phenotyping, and sorting and packing.
Browse full report with detailed TOC and list of figures and tables: https://www.imarcgroup.com/agricultural-robots-market
Agricultural Robots Market Trends:
Owing to the rising population, and the consequent increase in food demand, the leading artificial intelligence (AI) companies are developing robots that are capable of handling multiple agricultural tasks at a much faster pace than human workers. Apart from this, many organizations are supporting fundamental research in the field of computing and engineering to enable advancements in robotics. For instance, the US Department of Agriculture's (USDA) National Institute of Food and Agriculture (NIFA) has announced the joint National Robotics Initiative for the development of collaborative robots that will help in the long-term prosperity of agriculture in the country.
Another emerging trend in the market is the introduction of swarm robots which can help in sowing, tilling and harvesting in future farms. These robots can also fertilize, weed and aid in controlling pests and diseases by collecting valuable data. Looking forward, the market size is projected to reach US$ 10.1 Billion by 2024, growing at a CAGR of around 16% during 2019-2024.
Request for free sample report: https://www.imarcgroup.com/request?type=report&id=1200&flag=B
Agricultural Robots Market Segmentation:
Market Breakup by Product Type
1. Unmanned Aerial Vehicles (UAVs)/Drones
2. Milking Robots
3. Automated Harvesting Systems
4. Driverless Tractors
5. Others
Market Breakup by Application
1. Field Farming
2. Dairy Farm Management
3. Animal Management
4. Soil Management
5. Crop Management
6. Others
Market Breakup by Offering
1. Hardware
2. Software
3. Services
Market Breakup by Region
1. North America
2. Europe
3. Asia Pacific
4. Middle East and Africa
5. Latin America
Do You Have Any Query or Specific Requirement? Ask to Our Industry Expert https://www.imarcgroup.com/request?type=report&id=1200&flag=C
Some of the major players in the market are Deere & Company DE, Trimble Inc., Agco Corporation (AGCO), Lely Holding S.A.R.L, AG Eagle LLC, Agribotix LLC, Agrobot, Harvest Automation, Naio Technologies, Precision Hawk, IBM, Agjunction, Inc., DJI, Boumatic Robotics, B.V., AG Leader Technology, Topcon Positioning Systems, Inc., Autocopter Corp, Auroras S.R.L., Grownetics Inc. and Autonomous Tractor Corporation.
About Us
IMARC Group is a leading market research company that offers management strategy and market research worldwide. We partner with clients in all sectors and regions to identify their highest-value opportunities, address their most critical challenges, and transform their businesses.
IMARC's information products include major market, scientific, economic and technological developments for business leaders in pharmaceutical, industrial, and high technology organizations. Market forecasts and industry analysis for biotechnology, advanced materials, pharmaceuticals, food and beverage, travel and tourism, nanotechnology and novel processing methods are at the top of the company's expertise.
Media Contact
Company Name: IMARC Group
Contact Person: Richard Lewis
Email: Send Email
Phone: 6317911145
Address:309 2nd St
City: Brooklyn
State: New York
Country: United States
Website: www.imarcgroup.com