Lives Updates of Scores and Valuable News with WolfScore
"WolfScore is certainly the Sports News app that you must have, if your interests involve football as it covers everything regarding that sport in a really unique and actual fashion, ensuring that all your inquisitiveness and excitement about your favorite game is satisfied throughout your daily perambulations."
Galaxy Smith Co., Ltd. has launched a brand new software product called WolfScore – LiveScore Football, a completely free and one-stop solution for football aficionados all across the world to be never too far away when all their favorite action in any case of their favorite game is taking place anywhere in the world.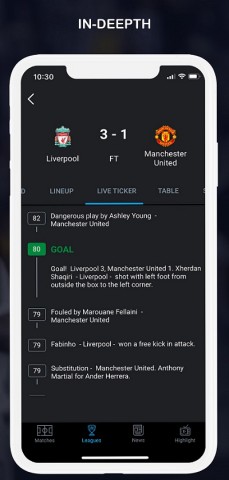 The potential of WolfScore because you've never practically experienced service like this any time before, and it gives you nothing but the most authentic information and updates when it comes to the sport of football. You'll get nothing short of interesting statistics and interesting reporting from past, presently occurring and future scheduled matches by using the application. The app can be installed in any mobile device and is completely free for installing and use. In total, the experience on WolfScore is unique and relevant to you, as you could be anywhere, and let you know everything that is happening, happened or will happen in a game that you're very interested in.
WolfScore does this by presenting a great amount and variety in their content directly at regular intervals and continuously. These may include football news updates, helping to follow live scores when your favorite team is playing, fixtures in a league or a tournament, video snippets and highlights from the game, as well as full details, statistics, and results in the most user-friendly way you've ever imagined. The interface of the app is a difference-maker as it ensures that you never miss something that is relevant or important to your own interests. It's easy, it's understandable, and it lets you select all the leagues and tournaments, as well as teams that you really want to follow, and never want to miss any news about them. WolfScore also has a humungous library to derive news and details from, and its graphics are quite high-end in comparison to many of its counterparts.
WolfScore – LiveScore Football app is available for both Android and iOS applications, and they can be found completely free for downloading with the links https://play.google.com/store/apps/details?id=com.wolfscore and https://apps.apple.com/app/id1466739915 respectively.
About
Galaxy Smith Co., Ltd. is a software development firm out of Mueang, Thailand, and their expertise in providing all kinds of the digital solution are truly of great value and consequence. The company implements significantly creative functionalities and features across all their products, and don't go easy on graphics. Their innovation end is impressive too, which can be attributed to their designers and developers who are some of the best in terms of talent and expertise out there.
Media Contact
Company Name: Galaxy Smith Co., Ltd
Contact Person: WolfScore
Email: [email protected]
Phone: +66956624786
Address:11/176 Siwalee Land and House Soi 14 moo 14 Tumboun Banped
City: Mueang
State: Khon Kean
Country: Thailand
Website: https://www.galaxysmith.co